Anna Strelchenko - Kamchatka, Russia



Ambassador Dispatches Anna Strelchenko
How did you get into kiting?


I learnt about kites a long time ago, back in 2007, when I lived in Vladivostok. A close friend of mine was kiteboarding and often took me to the kite spot to take pictures of him.


Five years ago, I moved to Kamchatka. Just a couple weeks after moving there I saw some guys snowkiting. For a few years I was their photographer, but then I wanted to learn how to kite as well.
Where is your favourite spot to kiteboard?


Of course Kamchatka! Yes, it's quite cold here and even in summer you can find snow, but there are beautiful views - the amazing vast ocean with volcanoes in the backdrop. Every summer we go for a ride in the caldera of Gorely Volcano. There, at 1,000 meters above sea level, it's an ice lake. It is an amazing place! In mid-July you can snowkite on the snow and then go kiteboarding on the water. But better in a drysuit though, as the water is icy!
What has the sport added into your life?


In 2016, I was diagnosed with cancer. My treatment spanned a long time and the doctor advised me to swim in order to restore mobility to my arm. When I tried kiteboarding for the first time there was a lot of swimming involved. In Kamchatka there are no shallow water kiteboarding spots, so all of my training took place in deep water. In the beginning it was very difficult for me. Now I really enjoy being able to ride the waves with the wind.

Kiteboarding for me is a mix of adrenaline, excitement, physical activity and fun. And it's a great way to get my mind off of life's worries, hospital and treatments. Sometimes I don't feel good, but I try not to miss out on good wind and enjoy my life in the here and now. Kiteboarding helps me with this a lot.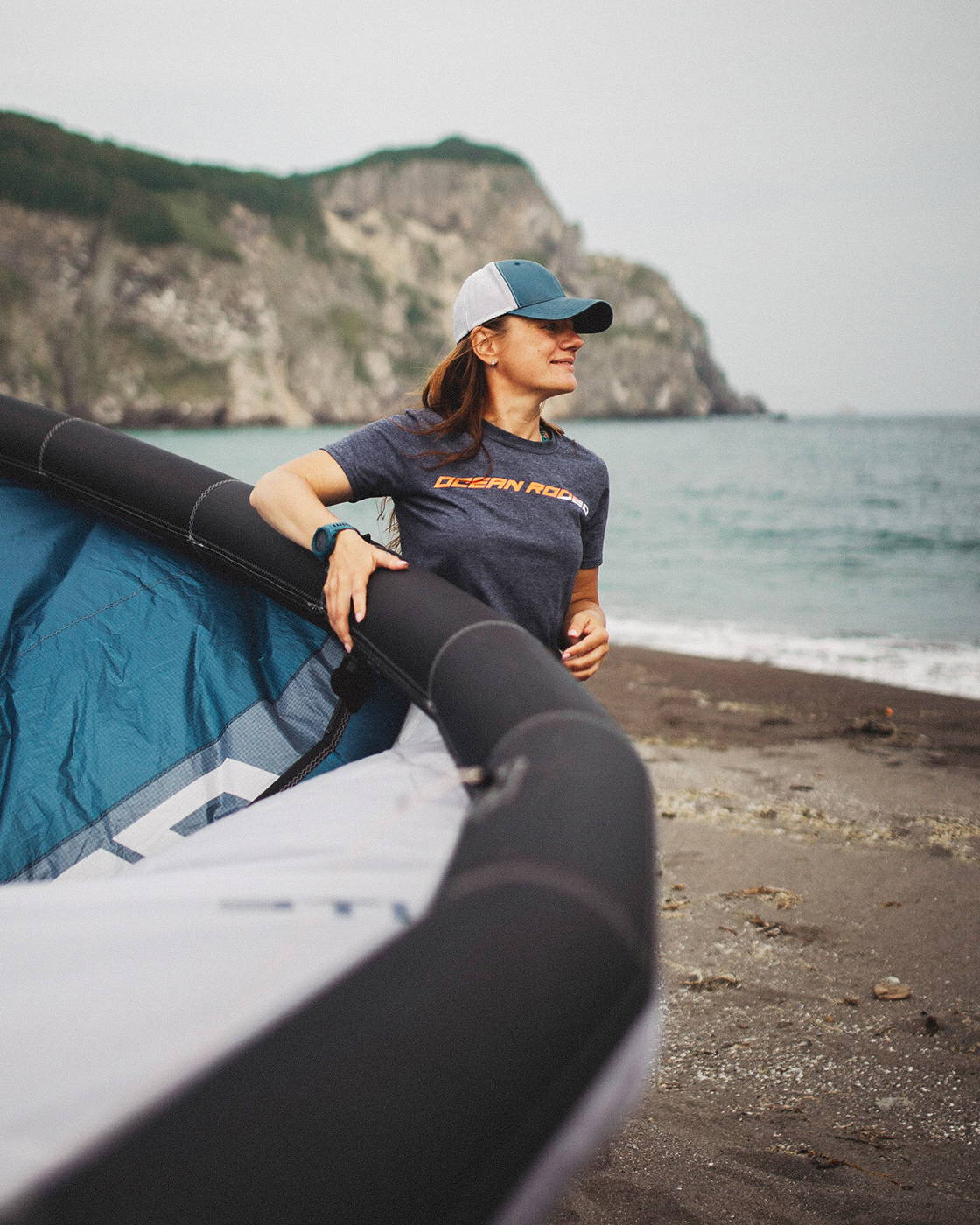 What advice would you give to women entering the sport?


Don't be afraid! Don't be afraid to take up such an extreme sport. Don't be afraid to try something new and interesting. Fear and insecurity are a great hindrance to progress. I myself am afraid of a lot of things - the height, deep water and high speed. But gradually I fought my fears.


Do you have one kite adventure that stands out for you?


All the sessions with Vovan Voronov are very memorable. He loves extremes and unusual places to ride. The most memorable adventure this year was a trip for my birthday in the caldera of the Gorely volcano. Our truck was packed with Ocean Rodeo gear. We unfortunately did not catch much snow and ice there, but there was a very good wind and nice company. I was happy to celebrate my birthday in such a beautiful place!


What's your ultimate goal when it comes to kiting?


I have a lot of plans! I want to learn how to surf and wingfoil. Ocean Rodeo has some of the best lightweight kites for wave riding and I am really excited to see their wing, the Glide. I also like taking photographs of kiters in all the beautiful spots around Kamchatka, so that people around the world can see the amazing locations we have here for kiting.